9 to 5'ers      Written by Laurie Jones * Illustrated by Ted Couling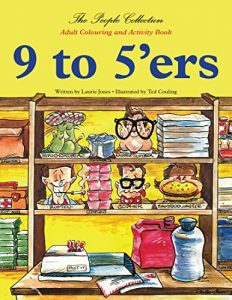 9 to 5'ers was originally created in 1985 as a creative outlet for  anyone facing the daily challenges of being an office worker.
To coin a phrase, "There's one in every office… " This book has 20, including The Boss, The Junk Food Junkie, The Den Mother, The Bitch,  The Joker, The Family Man, The Gossip  and The Office Romeo.
Now, the 9 to 5'ers Adult Colouring and Activity Book will give you hours of fun doodling and letting the artist in you loose as you watch the clock tick by.
Although the retro theme in the illustrations has some "old" features like a typewriter, smokers at their desks and other blasts from the past, the characters are still alive and well in every office in the land.
Cataloging Instructions:  Pull out (or copy) the appropriate page that is a match in your office and place it on the desk or bulletin board of the suspected species. If they ignore it, you're probably very close. If they rip it up and throw it away, you're dead on.
WARNING:  This procedure could be hazardous to your employment. DO NOT GET CAUGHT cataloging your supervisor!
Side Effects: Excessive giggling may cause you to colour outside the lines.
Order with PayPal
Only $4.95
Immediate Download

eBook version: Order from Amazon Kindle