Colors of Time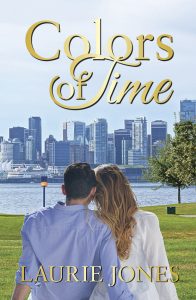 1868 – Jonathan Wilks is elated at winning over $2,000 in a winner-take-all poker game. The money will go far for his new life with his beloved Margaret, after they elope tomorrow.
2007 – Kate Carston is surprised to find an unconscious man at the back of her art gallery. Even more surprising is the fact that the man claims to be the long-since dead Jonathan Wilks, painter of many valuable heirlooms that hang in her store, and lost love of her great, great, great Grandmother Margaret. How did he get here? Why is he here? With the bank about to foreclose on her gallery, the last thing Kate needs is the stress of landing in the middle of an Unsolved Mysteries episode!
Growing up, Kate used to stare at the antique photograph of Jonathan and Margaret at the carnival, hoping someday she would find her prince – someone as handsome as Jonathan. But he was here now, and she was falling for him. Would he vanish just as quickly as he had appeared? Was he really supposed to be with Margaret?
Call: 1-250-740-0003 to order your copy today.
Regular retail: $19.95      Direct: $15.00 CAD plus shipping
Reviews
"Jones' short, fascinating novel gets a high mark for originality. Her flawless plot and perfect pacing make this story a winner. Not to miss for fans of time travel!"
5 Stars! ~Affaire de Coeur
"This book has it all – humour, suspense, romance, a paranormal aspect, etc. Laurie has a winner here. One of the best time-travel/paranormal romances that I've read in a long time. A big 5 stars on this one, it may be equaled but beaten? I don't think so. Way to go, Laurie."
5 Stars! Irene Marshall ~Sime-Gen
"The level of detail in the book is impressive, both regarding modern day Vancouver and Victorian-era Gastown. The wealth of secondary characters are all well drawn individuals, and I found the insights into the world of art shows and art galleries fascinating. For those that enjoy the torn-between-two-lovers scenario, having the hero forced to make the choice is a refreshing twist."
Jennifer Dunne ~SF Romance
"I enjoyed this story immensely. Ms. Jones shows it is possible to love more than once in a lifetime. I grieved with Jonathan when he realized that his Margaret was long dead but rejoiced when he began to fall in love with Kate. The secondary characters round out the story very nicely, too. Overall, COLORS OF TIME was a very enjoyable read full of romance, passion and adventure. This is a story not to be missed!"
5 Stars! Sharal Heinemann ~Sime-Gen